Five Minute DIY
January 30, 2013

So, Vaseline isn't the coolest thing in the world. It doesn't strike me as the type of thing you would find kicking around in Victoria Beckham's handbag, if you know what I mean. I have always associated this particular petroleum jelly with the time in my life when I didn't have enough pocket money to buy sparkly scented lip balm. Then it was just Vaseline. Vaseline for not getting hair dye on your forehead. Vaseline for getting a ring off when it just wont budge.

Now, life is getting back to that simple place where old, plain things have been given a fresh new look.

Look at herbal essences. Cheap, cheesy shampoo no more. No, now it's 90s retro.


I don't know how I feel about the 90s being retro. The 90s are my childhood. They are my history. I've never heard the word retro associate with anything I've actually lived through before. Weird?

So back to Vaseline. I spotted a DIY lip balm and have to share. I loved this stuff so much I decided to take it one step further and make some cream blush. It's working quite nicely, I have to say.

The original tutorial is here. (Check it out, there is a plethora of other diy tutorials)


This is what I did with it. Sorry my pictures suck a little more than the original tut, but really, I did do this spur of the moment at around 10:30pm. Forgive a little.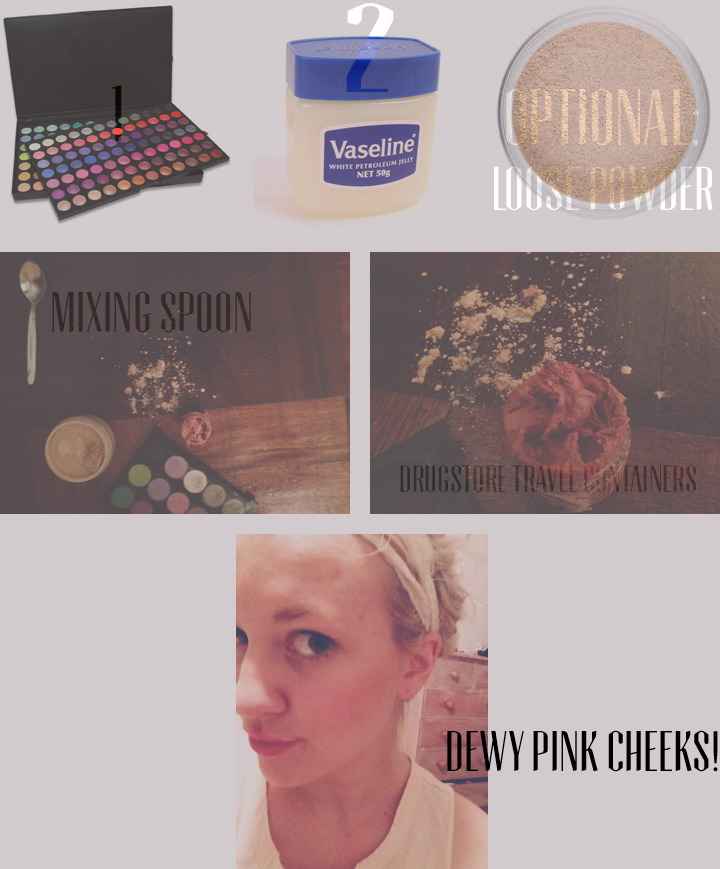 So, I used one of my little eyeshadows from this giant palette. I don't ever really plan on putting any shade of red or pink on my eyes. Its just not something I think people with already pinkish skin should do, personally. The little pockets of shadow are too tiny to harvest for powder blush, so I dug it all out and dumped it into a little plastic container with some vaseline and slapped some on my lips. It worked like a dream. (Think cheap, homemade rosebud salve) But then I had a thought.
Cream blush? Yes please.
The vaseline, however, does give A LOT of shine, so I added the loose powder to matte it down and PRESTO. Dewy cream blush.
Not only does this pick up your cheeks all day, after you wash it off, there is another surprise. My face felt beautiful, soft and silky. Because I have this love/hate relationship with my skin so post-cream blush, you could say it was like finding young love once again.
Try this. Both the lipbalm and the cheek stuff. Play with it. They're cheap and they work!
PS: I have more valentines ideas. Next post. But Vaseline is close to Valentines, so I'm calling myself safe.