Hello Lovers
February 12, 2013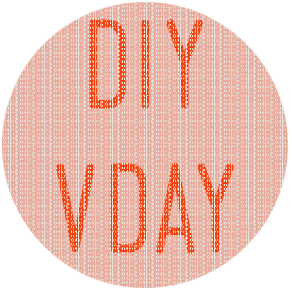 Little peeps, its just 48 hours till the big day. Valentines Day, that is. If Vday were the Titanic (in this hypothesis, it doesn't sink) we're almost to Manhattan!
Today is the day by which you should have planned some form of something special if you hope to avoid being heart-shaped-chocolates and over-priced-crappy-flowers guy. Or girl. It being 2013 and all.
So, because I don't have a real job to speak of, it is my sincere pleasure to peruse the almighty internet on your behalf. This is what I came up with.
Watercolor Valentines Day Card
DIY by Chelsea from
Oh My Deer Handmades
.
My best friend, Katrina, and I were obsessed with Chelsea and Tec's beautiful wedding published in Southern Weddings Magazine back in '08 and I never really stopped blog-stalking her. Everything she touches in kind of golden. One really cannot possibly go wrong with a tip from Chelsea.
The sisters from
A Beautiful Mess
seem to be living the ultimate in creative lifestyle. I believe my 6 year old self exploring their arts and crafts section would appear as a young pup in a closet full of shoes.
The ideas are always surprisingly easy and incredibly out of the box. So make this cake, and enjoy the warmth of your incandescent glory.
This is oh.so.simple. I haven't tried it yet, only because my mug cupboard is overfilled already! (People who attended our wedding know that Reece drinks a lot of tea?) Also, we're moving across the world at some point in the near future, (please visa. quick visa.) and I seriously can't bring mugs with me. I want to, my mind is just trying to stretch itself around weighing down my limited luggage allowance with ceramic.
So get into it and make your own stuff. Stick it to the greeting card companies who created this holiday to make money. Blah Blah Blah... corporate is the enemy. (says she who is fully supported by the profits of a man who works for wal mart. facepalm. I fail at being a hippie.)