And then there comes a stroke of genius.
December 27, 2013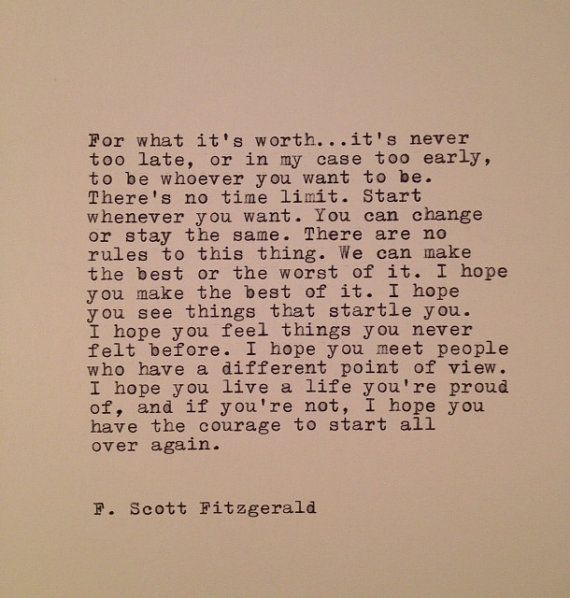 When I read this, it made me feel that I could possibly really love the works of Mr Scott Fitzgerald.
I've mentioned before, I don't pretend to be a cultured, complex literary student. I read Nancy Drew mysteries and Heartland in grade school... I've never been able to properly digest the old prose of Jane Austen or Charles Dickens. Too many adjectives for one page, I say.
I watched Midnight in Paris, so I have this vision of what Scott Fitzgerald was like which is probably really inaccurate, but somehow, it frames my reference. Old Sport.
But then this quote changed everything. Beyond being mystified at the life of Gatsby or mildly entertained at Owen Wilson playing pretty much the same character that he has in every other movie I've encountered, its truth moved me.
I'm not too young to be a mother, nor is it too late for me to change career paths. I've made my way down little rabbit trails that I didn't particularly like, and it takes such courage to turn around and go back and try again. Because in turning around, in changing your mind, you're admitting that you might have gone the wrong way. Or perhaps the courage is in hoping that there is always something better than what you thought you should have had. Either way.
"Tomorrow is always fresh, with no mistakes in it"
-Anne Shirley
So right now, on the 27th of December, we're all finding ways to improve ourselves by taking an underwater yoga class or opening a savings account; hoping to achieve financial freedom and an enviable figure by the time the turkeys go back on sale.
But the truth is all we have is today, and if we fail, tomorrow is always there to remind us that its never too early or too late to make a change for the better.
Have a sparkly New Years. I'll be warming up with a hot cup of something and try to finish some knitting projects for this little peach.
My Resolution list:
- import a South African husband, specifically the one that belongs to me already.
- complete growing a tiny human.
- facilitate tiny human entering the world.
- keep her alive.
- keep me alive.
- be an industrious home-made maven. (optional)